The Shad'ika (Natives of Shadow Moon) were skilled craftsmen in the making of weapons.  Using a projectile rifle that was loaded with shrapnel to a weapon that fired sheer electric power at enemies, their technology surpassed the technology of some Core Worlds.
Shad'ika Projectile Weapons
Edit
Many early weapons didn't fire plasma or electricity.  The early weapons fired sand, rock, glass, shards on metal at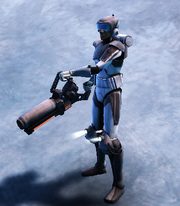 enemies.  These weapons were brutally deadly, and were used by many Prime Ministers as means of protection.
"Think of the effect of a grenade in focused stream.  Stang, that would hurt."
-A corscant resident upon reading of the Shad'ika weapon of choice.
MORE WILL BE ADDED TO THIS SECTION IN TIME
Electric Weapons
Edit
"My skin... is g-g-gone!  How did he do that!?" 
- A Bounty Hunter upon facing an opponent with an Electric Weapon
The electric pistols and rifles are a very powerful kind of pistol that shot electricity so hot it burned skin right off and rendered the victim stunned, they were later declared illegal unless in military possession. although it can still be seen in possession of wealthy benefactors bodtguards or gangsters.
MORE WILL BE ADDED TO THIS SECTION IN TIME